Chillers & Boilers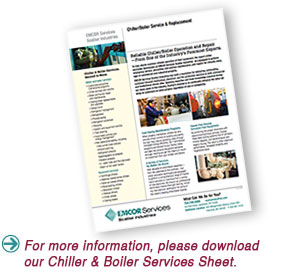 With decades of expertise, from the waterside to the controls, our chiller Energy Management and boiler technicians are equipped to perform emergency service, preventive, and contract maintenance and repairs for all commercial and industrial properties to maintain reliable operation of their equipment.
Chiller and Boiler Service and Replacement
When properly maintained, chillers not only provide critical comfort needs to the people and the equipment in the buildings but also help reduce your operation costs through increased energy efficiency when properly maintained. EMCOR Services Scalise Industries' technicians are your resource for comprehensive, high-quality chiller and boiler services. And since we're brand neutral, we have vast experience servicing machines from all manufacturers.
Our services include:
Centrifugal Chillers
Water/Air-Cooled Screw Chillers
Scroll Air-Cooled Chillers
Reciprocating Chillers
Absorption Chillers
Medical Chillers
Chiller Rentals
Refrigerant Management
Cooling Towers
Refrigeration
Refrigerant conversion

Retubing
System & equipment retrofits
Tube cleaning
Non-destructive testing, including:
- Eddy current tube analysis
- Refrigerant analysis
- Spectrographic oil analysis
- Vibration analysis
C.I. Watertube and Firetube Boiler
Steam or hot water boilers