Thermal Imaging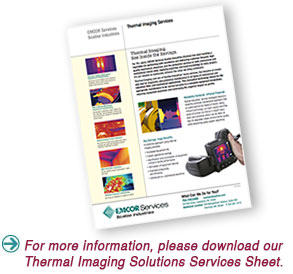 Thermal imaging has become well established as an invaluable tool for diagnostic and predictive maintenance in all types of commercial and industrial HVAC, mechanical, and electrical applications.
The technology enables the appropriate maintenance to be carried out before complete breakdown occurs and consequently reduces equipment downtime and minimizes the associated impact on profits. EMCOR technicians are highly trained in thermal imaging applications, providing inspections and evaluations that show real-time infrared images of potential facility issues.
At Scalise Industries, our service strategies feature a reliability-centered maintenance approach that is customized to the needs of our clients. Using infrared technology, we will rapidly identify areas of concern so that an in-depth evaluation and corrective action can be taken to correct degraded indoor environmental quality, and prevent costly system downtime.